Snorkelling and Diving with Whale Sharks in Vilamendhoo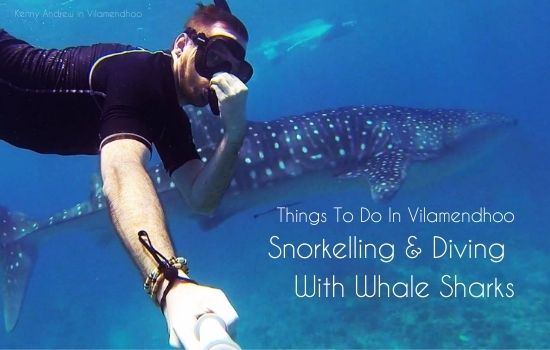 The Whale Sharks of the Maldives
"I was lucky enough to see three Whale Sharks whilst snorkelling between dives and a vast array of marine life. Eurodivers were great. Reasonable value."
– SpaldingUKTraveller, Spalding, United Kingdom, Jan 2021 – TripAdvisor
"We swam with one of the largest whale sharks in the region. We saw mantas, turtles, dolphins, octopus, and beside that, we had a lot of fun on the boat that day! Great crew, thank you guys."
– AnaP1718, Dec 2020 – TripAdvisor
Whale sharks used to visit the Maldives during the Southwest Monsoon season. But now, they seem to hang around the warm waters of the Indian Ocean all year round, specifically in the South Ari Atoll.
Spotting a slow-moving whale shark beneath the Maldives' clear waters and even snorkelling above or diving alongside one is truly an incredible experience.
The whale shark (Rhincodon typus) is a gentle filter-feeding giant that belongs to the shark family and is the world's largest fish. They swim by moving their 12-ton bodies from side to side, unlike their agile relatives, the sharks, that use their tails for swimming. 
Whale sharks can be seen in the plankton-rich waters near Vilamendhoo, and the Resort arranges snorkelling excursions. Diving with these magnificent creatures is also possible via our dive operator, Euro-Divers, based on the Resort. Whale sharks tend to favour the Western side of the Indian Ocean archipelago from May to December and then move to the Eastern waters from January to April. They can be spotted around the South Ari Atoll's Maamigili Marine Protected Area (MPA). Vilamendhoo is situated in the South Ari Atoll and provides a strategic vantage point for megafauna enthusiasts as the Resort Island lies just in the path of whale shark feeding grounds.
[Related: Vilamendhoo's Scuba Diving and Snorkelers Calendar For South Ari Atoll Maldives »]
Contact Vilamendhoo's SEA department for further information about these gentle giants, the best time to spot them and to ask for whale shark excursion reservations.
Follow us on Facebook and see the latest whale shark spotting and amazing images by other divers and snorkelers.
---
Are you planning to explore the underwater world in the Maldives? Vilamendhoo Island Resort & Spa is one of the best resorts in the Maldives for diving and snorkelling. Book direct and enjoy an array of special deals with flexible cancellation.
Living in the 'new normal' – A Safe Holiday Experience In Vilamendhoo.
Quick Links
Your questions answered before you travel  |  Facilitating PCR Testing at Resort  |  Travel Flexibility & Cancellation Policy Update 
View this post on Instagram