Dive Into The Blues of Vilamendhoo This Summer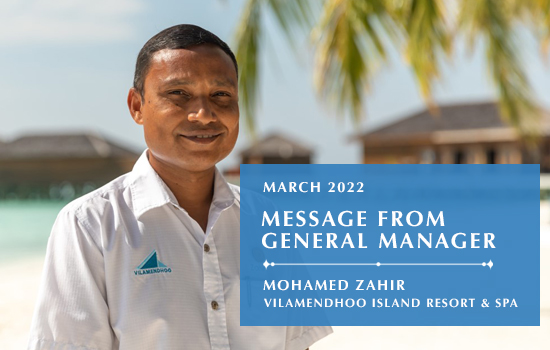 Dear Valued Guests,
Sunny greetings from Vilamendhoo!
With summer fast approaching, it's a perfect time to plan your next travel. Vilamendhoo brings our guests the colours of the Maldives. As many of you would agree, the island is ideal for diving, romance, and family stays. What's more? This March, we have exciting new travel updates for you.
Guests arriving in the Maldives no longer require a PCR test. You can find more information about travelling to the Maldives on our Travel Updates page. We expect more of you to visit Vilamendhoo soon with this ease of travel.
Additionally, the Vilamendhoo team will participate in the Earth Hour celebrations on March 26, 2022. As you know, environmental conservation and sustainability are close to our hearts. So join us in our celebrations if you are on the island during Earth Hour.
For the April 19 - October 31, 2022 stays, we have arranged a special saving of 10% on all room and meal plans. Book before March 31, 2022. This offers is available to book directly from our website, through our reservations team and with your travel partner.
Vilamendhoo's sun, sand and magnificent house reef with its thriving marine life appeal to snorkelling and diving enthusiasts. Whether swimming in the shallows or out on the reef slope, there is plenty to see in Vilamendhoo. From immersive experiences with reef fish as well as different types of rays. As some of you may have experienced, we have various excursions that allows you to spend time with your family, friends, and loved ones on the turquoise water and beyond. So have a look and add these experiences to your bucket list and itinerary of things to do in Vilamendhoo.
I'm looking forward to the beautiful summer season as we keep welcoming more repeater guests. For our new visitors, rest assured that in Vilamendhoo, you will feel that you have found a second home in our safe, tropical paradise.
Warmest regards from our little part of paradise,
Sincerely,
Mohamed Zahir
General Manager
---
Planning to visit the Maldives?
Check out these special offers »
Travelling in the 'new normal' – A Safe Holiday Experience at Vilamendhoo Maldives
Quick Links
Your Questions Answered Before You Travel  |  Facilitating PCR Testing at Resort  |  Travel Flexibility & Cancellation Policy Update