The Month of Love Is Upon Us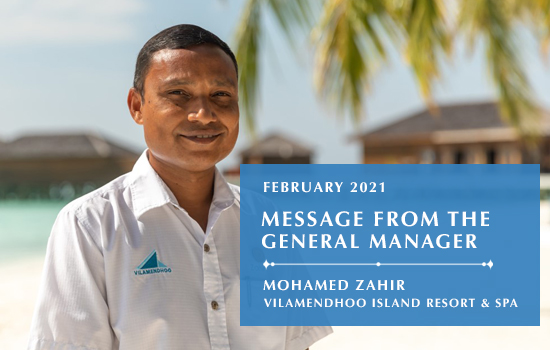 Dear Valued Guest,
Greetings from Vilamendhoo!
This is the best time to book a relaxing holiday. Vilamendhoo is gearing up to share the love and host an exciting romantic candlelit beach dinner, offering you the perfect setting to celebrate Valentine's Day in true Maldivian tropical style, with the one you love.
We cordially invited you to visit Vilamendhoo, 'A Safe Holiday Experience' worry free in staying with us, and enjoy in your second home in paradise.
We have prepared a Valentines Program for couples, and romance is in the air, that will make your evening unforgettable, and matched with mouthwatering dinner courses prepared by our professional Chef's.
Our team aimed to create exceptional holiday experiences for our valued guest, and we make sure that the guests leave with nothing, but fond of memories.
We have also prepared various excursions that allows you to have the time with your family, friends and loved ones on the turquoise water and beyond.
Pool side at Sunset bar has a selection of tasty light meals to savor while lounging by the pool will be perfect company on your lazy day, and watch a magical sunset that make your eyes open until dusk.
Kindly follow us on our social media pages for all the details. View all our latest special offers for 2021. For more information, please contact us via email to reservations@vilamendhoo.com or use the live chat function on our website.
Making your holiday a magical experience is our main goal and we are looking forward to hosting you again.
Living in the 'new normal' – A Safe Holiday Experience In Vilamendhoo.
Quick Links
Your questions answered before you travel  |  Facilitating PCR Testing at Resort  |  Travel Flexibility & Cancellation Policy Update  | Scuba Diving & Snorkeling Calender
Special Offers
A choice of offers for your Vilamendhoo holiday in 2021. See All Offers »
We continue to allow for maximum flexibility given these unique circumstances.
Book now to your convenience with the freedom of FREE Cancellation on Room Rate for cancellation received 3 days prior to arrival.